Free Cart Ride to the fields
From Buffalo, North Tonawanda, East Aurora, Elma Area--Take Rt. 90 to the East Aurora Expressway (Rt. 400 South). Rt. 400 becomes Rt. 16 South. Continue on Rt. 16 exactly five miles past the light in Franklinville. Make a right (signs posted) on County Rt. 19. Go ½ mile and make a right on Williams Hollow. Take your first left on Cooper Hill Road and follow the signs to the farm.
From Rochester, Scio, Hornell Area--Take Interstate 86 West to the Hinsdale Exit. Make a right on 16 North. Go 7.9 miles and make a left on the Five Mile Road (watch for sign) i.e. County Rt. 19. Go 1/2 mile and make a right on Williams Hollow. Take your first left on Cooper Hill Road and follow the signs to the farm.
From Ellicottville—Stay on Route 219 North to Great Valley and just past Davis- O'Laughlins Cadillac make a left on Peth Road. Stay on Peth Road past Great Valley Berry Patch to the four corners in Humphrey. Veer right (GPS will say left—disregard) on to Chapel Hill Road— (For non-paved winding country roads—the kind John Denver sang about turn at Childs Blueberry sign and follow signs for 4 miles). For paved road—stay on Chapel Hill Road until it "T's" at County Route 19--The Five Mile Road. Take a left. Your second road on the left is South Cooper Hill Road and you want to turn there. Go 2.5 miles until the road again "T's". Turn left and the farm is .3 miles up.
From Allegany, Olean, Portville Area—Go past the Allegany-Limestone Middle/High School on County Rt. 19. You're second left after Chapel Hill Road (also known as Humphrey Hill Road) is South Cooper Hill (signs posted). Go 2.5 miles up on South Cooper and then make a left on Cooper Hill and watch for the farm.
From Pittsburgh, Salamanca, Erie, Jamestown—stay on I-86 until exit 24—Allegany. Make a left. Take a right on Chapin Cross Road, take a left on County Rt. 19…follow directions for Allegany, Olean, Portville from here. Note--GPS will suggest you get off in Salamanca--I suggest you do not--wait until Exit 24 and let your GPS take it from there.
From Batavia--Take Route 98 south to Route 16. Make a left and enter Franklinville. Continue on Rt. 16 exactly five miles past the light in Franklinville. Make a right (signs posted) on County Rt. 19. Go ½ mile and make a right on Williams Hollow. Take your first left on Cooper Hill Road and watch for the farm.
NOT ALL YOU PICKS ARE CREATED EQUAL
Dan and Carrie Childs welcome you to experience the safest, superbly flavored, pest free blueberries. Too many farms have "extra protein in every bite" pest problems from improper farming practices-most state Dept of Agricultures would close these farms down but in New York & Pennsylvania-the Dept. of Agricultures do not. At Childs, we do not neglect our fields and are thus, pest-free. It is a matter of honor to not sell inferior products to the public.
Our berries are grown in soil never touched by the glaciers @ 2250 feet giving them what our customers call, "the best tasting blueberry flavor-ever!". Blueberries grow wild on mountain tops like ours and that is one factor in why these berries taste so good and grow so well plus at the higher elevation, we have few to no mosquitos.
You won't find a nicer Blueberry UPICK than Childs.
Folks come back year after year, some driving from as far as Ohio and Pittsburgh, to get Childs Blueberries.
Click on the Beyond Organic link to learn what sets Childs Blueberries apart as the safest, best tasting, pest-free blueberries!
Our fields are manicured like a lawn and clearly marked. The bushes are properly pruned and maintained. The view is beautiful and you can see all the way to the foothills of Appalachia from our highest hill in Humphrey farm.
Rows 1-18 are dedicated solely for our "U-Pick" customers. There is a wide range of varieties from big to small berries. Each variety has a unique flavor and texture. Wander around and taste until you find just the variety you like best!
Bring beverages, snacks, sunscreen, and containers to transport berries home, bug spray, any medications for bee stings or allergies.
Google Maps works well from Route 400 out of Buffalo, from Hornell direction or from PA BUT it does not do well from Ellicottville. Disregard Google Maps and use the directions below from EVL. From Jamestown, Use Exit 24--St. Bonaventure and then follow Google Maps from there.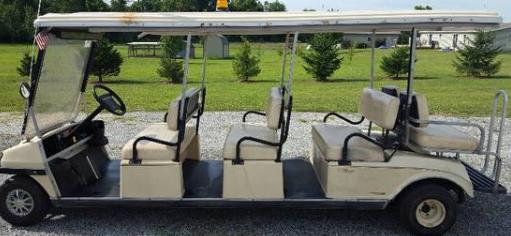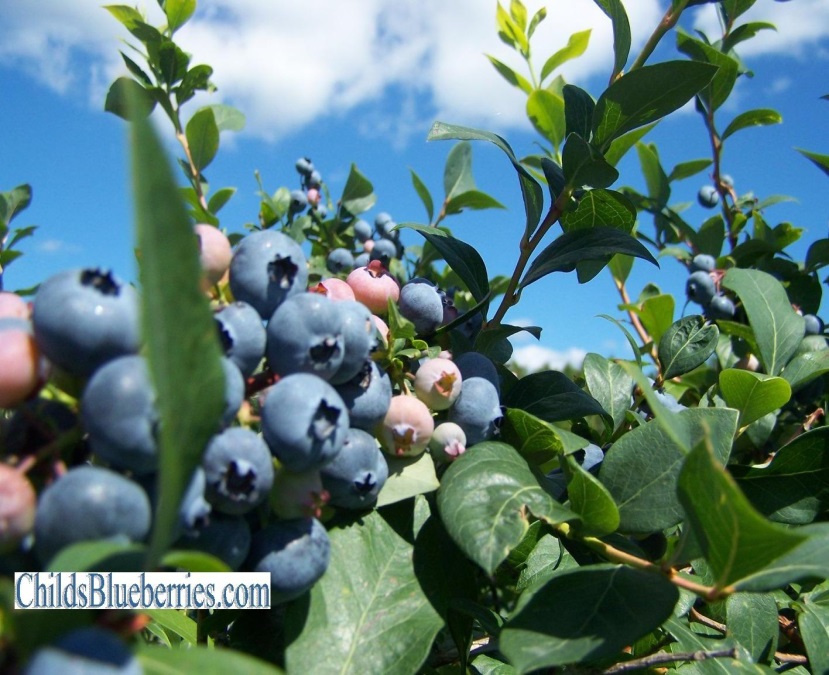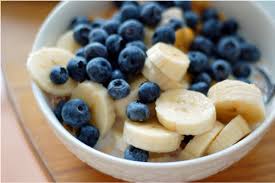 UPICK CLOSED FOR 2018--BUT...
You may have tried buying store blueberries and realized they just don't taste good. The problem is machine picked berries contain 20% or more rancid over ripe berries mixed in and it ruins the recipe or smoothie or jam. Add 20% or more under ripe berries to the 20% over ripe and you have store bought.
Want some Childs Blueberries in the off season?
a. Make a purchase at the farm--$10 per bag of frozen Childs Blueberries and each bag has two pints in it--same price as summer-$5 per pint of perfect berries. $12 for frozen Childs Red Raspberries-two pints per bag (very limited supply).
Wine-still sold out but taking orders for March and beyond. This is "private stock", chemical free and not mass produced. Often wine like this is $150 or more per bottle. Labor intensive and lots of fruit--$30 per quart.
b. Arrange to meet Carrie when she makes her bi-weekly deliveries to East Aurora and Buffalo. Text or call her at 716 229-9779
c. Visit Reid's Food Barn in Olean or Lexington Cooperative on Elmwood in Buffalo where they retail the berries.
All Natural Artisan Wine--All the rage!
Not Mass Produced
You can pre-order the wine, which is currently sold out. Price is $30 per quart and the wine is chemical free and all natural iced. It has a lot of fruit in it--a blend of our red raspberries, wild elderberries and blueberries. On the sweeter side with a dry after taste.
When I say no chemicals--I mean none of these commonly used chemicals in mass production wine making: Sulfur Dioxide; Citric, Absorbic, Tannic, Tartaric and/or Malic Acid; Potassium Sorbate, Magnesium Sulfate, Kieselsol, Chitosan, Bentonite, Sodium Bisulfite, Potassium Bisulfite, Potassium Bicarbonate, Alpha-amylase, Beta-amylase or Isinglass--to name a few plus the fruit often has residual chemicals on it prior to pressing in mass production processing plants.
Scroll Down for Directions to Childs Blueberry Farm, 3172 Cooper Hill Road, Hinsdale, NY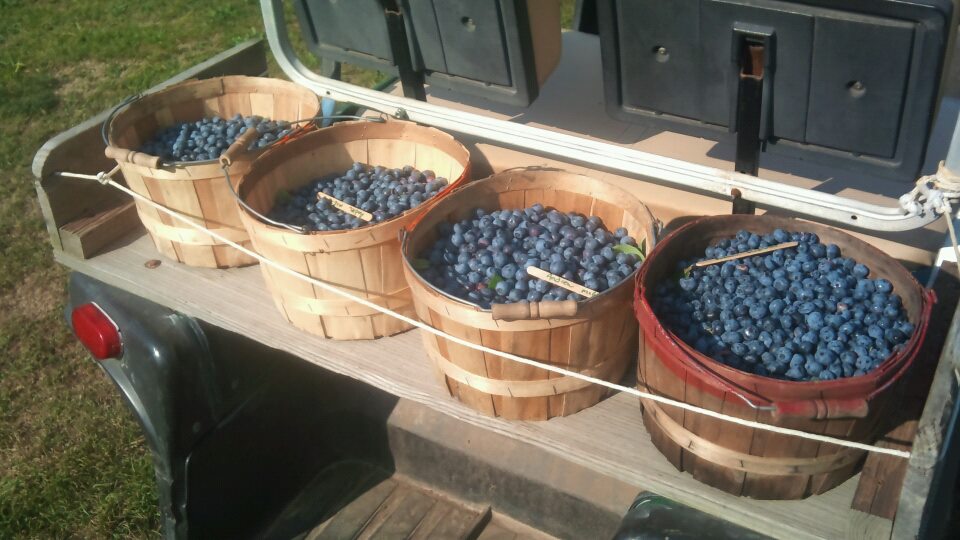 Short YouTube Video of the farm...see what our UPICK is about! Dan Childs