D

an Childs @ Downtown Buffalo Farmers Market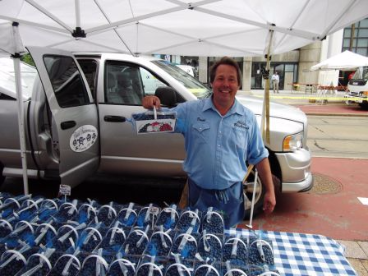 CHILDS FARM MARKET LOCATIONS
North Tonawanda Robinson Street Market
Take Colvin to Robinson Street Saturdays, 7-1. OPEN THROUGH SEPTEMBER FOR CHILDS BLUEBERRIES.
East Aurora Farmers Market
Behind the circle across from TOPS Markets. Wednesdays and Saturdays. 7 a.m. until OPEN THROUGH SEPTEMBER ON SATURDAYS FOR CHILDS BLUEBERRIES AND OPEN THROUGH AUGUST ON WEDNESDAYS.
Downtown Buffalo Country Market
At Buffalo Placey the Main Place Mal under the walk way bridge. Thursdays, 8 to 1. OPEN THROUGH AUGUST FOR CHILDS BLUEBERRIES.
Williamsville Market at the MILL
Saturdays, 8-
OPEN THROUGH SEPTEMBER FOR CHILDS BLUEBERRIES.
Olean REAP Market at Lincoln Park
Saturdays, 8 to 2. Closed for our season but UPICK is open as is ready picked at the farm--only 12 miles away!
Ready picked frozen purchase at the Farm by appointment--Thanks much!
Seven days a week 9 .m. to 7 p.m.; Call or text 716-229-9779
.
If you like pest free blueberries, I think Childs Blueberries are some of the best. I would put them up against any blueberry on the planet for taste. Studies show that blueberries grown in the right soil with the right climate and the right organic matter, have substantially more nutrients and anti-oxidants than blueberries grown in the wrong soil--they are "nutrient dense". At Childs Blueberries, we micromanage our fields, continuing to follow Cornell Universities teaching since 1984, by checking pheromone traps daily to monitor for pests. If we catch a pest in one of the traps, we spray with the mildest of sprays where the food can be eaten the next day. It is 200% more mild than the spray used on most certified organic produce with less residual. As with preventative medicine, by catching the pest incursion early, we cure it quickly and move on--pest free. For this reason, I believe our way is better and "Beyond Organic". Many times we go years with no spray at all.
The glaciers stopped about 100 feet down the hill from our farm. One mountain range over is Thunder Rocks in Allegany State Park---also left untouched by the glaciers at the top. This means the soil on top of Childs Mountain is perfect for growing blueberries, thus they are nutrient dense--if we plant corn, it grows knee high. The berries grown in flatlands with the wrong soil that has been chemically adjusted so blueberries will grow but the flavor is just not good and the healthy benefits one desires as an added bonus from a nutrient dense Childs Blueberry is not present. If you see blueberries and corn or potatoes planted in the same area then you need to try some of our berries because the two should not grow in the same area.